Sleepless in south-east London: Surviving your first hackathon
About a month after joining ASOS as an engineer and full of fresh-faced naivety, I willingly signed up to join a team taking part in the RetailWeek TechSprint – a 24-hour hackathon aimed at creating innovation for online retail. Armed with my laptop, a toothbrush and a loose grasp of the latest front-end frameworks, I set off for the InterContinental hotel at the O2 for a day and night of programming, pitching and perseverance. These are the things I learnt.
Before the hackathon
Get to know your team
ASOS is a big old place with dozens of development teams across a million different business areas, and having been there only a few weeks I'd not had the chance to meet the other people who'd been coerced into joining the hackathon team. Ahead of the big day, we arranged a few meetings to introduce ourselves, our experience and our ability to stave off sleep.
The team chosen consisted of front-end and full stack engineers, a QA engineer and a customer intelligence analyst. Producing a demo-ready product proved to be more than just churning out code so this assortment of skills was invaluable.
Know your tech
During our first meetup we ran through the tech we each used day to day and our experience with useful libraries and services. We didn't want to let our chosen languages and tools shape the design of our application too much, so we focused on a core of well-known technologies, coupled with a few curveballs we thought would be worth investing in.
As well as the usual development tools, we set up Slack for communication, Trello for task management, GIMP for image editing and we dusted off our PowerPoint skills. An empty Visual Studio project was created ahead of time, all pushed to an Azure Website via GitHub.
Have some ideas in mind
We were given a loose theme for the hackathon ahead of time which allowed us to share a few ideas beforehand – some far-fetched, some more realistic. With suggestions ranging from games to student scavenger hunts, we eventually settled on a handful of more achievable app ideas ready for us to flesh out on the day.
Get a good night's sleep
This one may be obvious, but feeling fresh from the off was crucial: camomile tea, some good earplugs, pleading with your neighbour to have one night without Nelly Furtado's "I'm like a bird" played on loop at full volume (I'm not kidding) – whatever it takes.
On the day
Settle on an idea
After arriving in the morning bright-eyed and full of coffee, we set up our machines and were given our remit. With a little more context we were able to adapt one of our ideas to fit the bill, and we started to discuss what we'd hope to deliver.
We used the hotel window as our Kanban board and started to task up our stories. The application we'd decided to build naturally split itself into tasks that could be spread between the team based on our skillsets: information gathering, graphic design, prototyping and marketing strategy.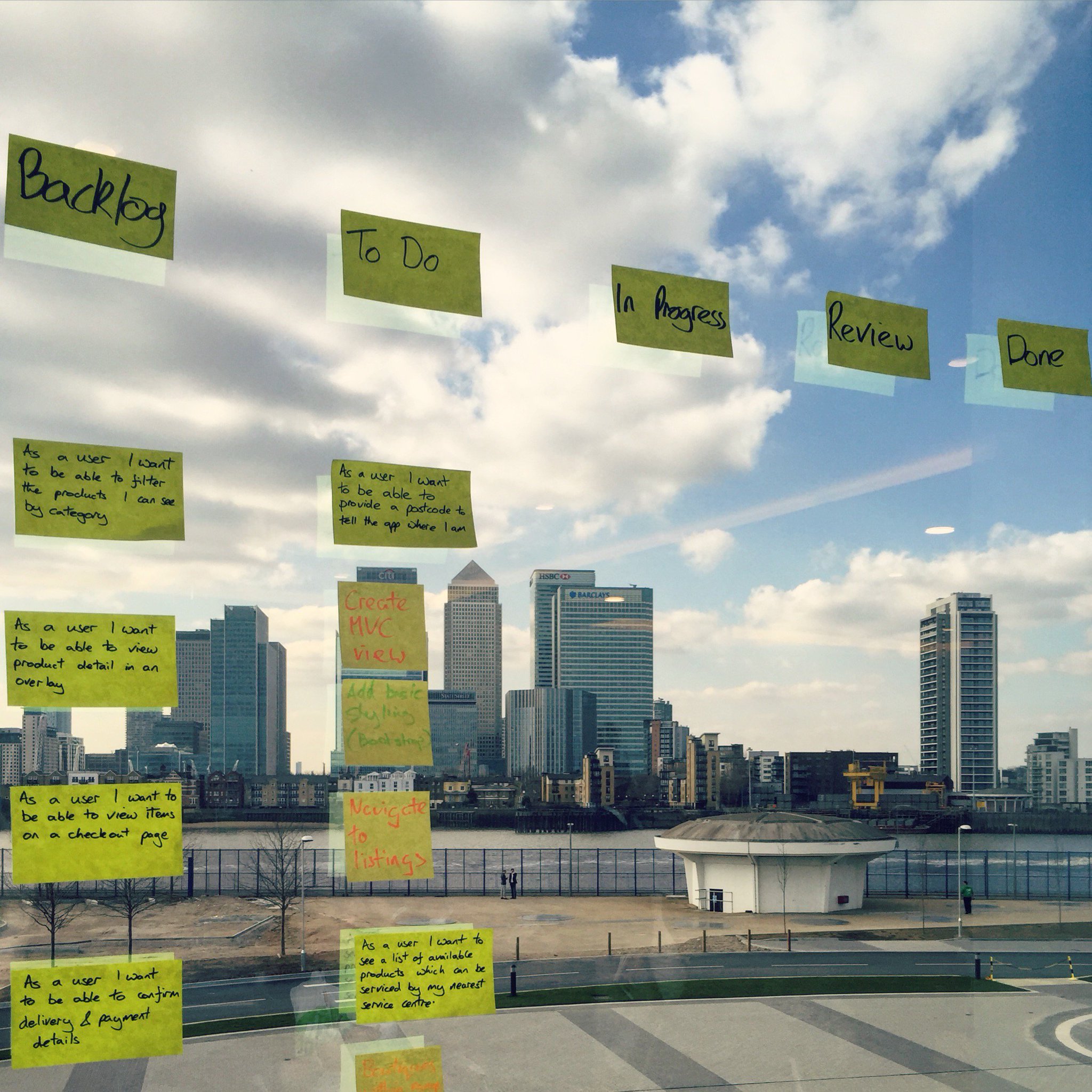 Minimum Viable Product
As the hours ticked by we refined our idea and discussed features to add, as well as those to pull. 24 hours is not much time – even though at 4AM it will seem like you've been sat at your laptop for an eternity – so it was important to focus on our MVP. This meant culling some features in favour of completing our happy path. Other sacrifices may have included code quality, testing and teeth brushing.
Keep caffeinated
After an 11AM kick-off, it was about 2AM when I first started to feel tiredness creeping in. A round of tea, followed by a round of coffee, followed by a round of Monster seemed to do the job. That was until around 5AM when my brain fought my body, forcing me into a jittery powernap in the hotel service corridor. A more balanced approach to caffeine consumption would have been advisable.
The following morning I perked up, feeling a little groggy but relatively chipper. It was at that point that one of our team changed into a clean pair of socks, and I've never been so jealous of anything in all my life. Bring a change of socks.
Practise your pitch
As demo time loomed, we set aside some time to prepare our presentation and focus our pitch. We had three minutes to communicate our idea and demo our app, so it was important to keep a clear, simple message.
Starting with a dozen slides, we eventually narrowed it down to three, which we then ran through ad nauseam to iron out kinks and compensate for technical difficulties.
And the winner is…
Well, we didn't win, but we did finish in second place. Our app was a success and our pitch was well received. We were pipped to the post by a worthy winner with a very refined sales pitch. Amazingly we all managed a few victory beers after the event before I headed home for one of the most comfortable sleeps of my life.
Although it sounds quite gruelling, it was a great event to be a part of and a fantastic opportunity to meet new people. But what I wouldn't have done for a clean pair of socks…